Chislehurst Matters Promises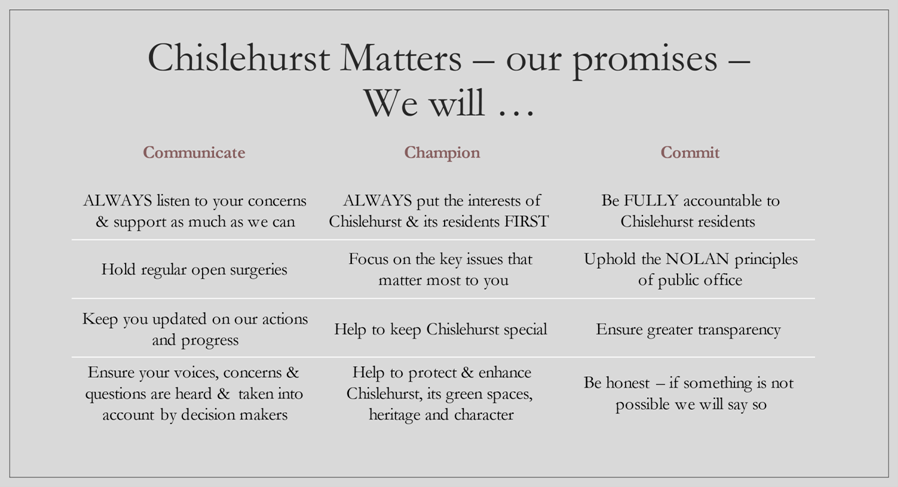 Communication
In order to understand and represent local views and priorities, we will build on our already strong relationships and encourage local people and groups to make their views known and engage with us. Good communication and engagement are central to being an effective councillor.
We are here to listen, act and respond. We can do this face to face in meetings in person or virtually, in surgeries and by email.
Representation
A councillor's primary role is to represent their ward and the people who live in it. Councillors provide a bridge between the community and the council. As well as being an advocate for local residents and signposting them to the right people at the council, councillors need to keep them informed about the issues that affect them.
If elected as your local councillors, we undertake to
respond to your queries and investigate your concerns
communicate council decisions that affect you
know our patch and be aware of any problems
know and work with representatives of local organisations, interest groups and businesses
represent your views at council meetings
lead local campaigns on your behalf.
Surgeries
These will be held monthly, with two councillors in attendance if possible.
Email
We promise we will respond to every email.  If we cannot give you an answer immediately, we will tell you why, what we are doing and when we hope to come back to you by.
If we slip up occasionally, tell us, chase us!
Keeping you up to date
We will use a variety of mechanisms to let you know what is happening, including, this website and social media (principally, Facebook, Twitter and NextDoor).
We will also produce an annual newsletter outlining what we have been doing.
Council meetings
We will put pressure on LBB to live stream local council public meetings so that they can be viewed at the time or a time that's convenient so as to open up local democracy and decision making.
We will ensure items that affect Chislehurst are put in the public domain as soon as possible and only discussed behind closed doors when there are compelling reasons to do so. We will fight for transparency of decision making.