We were pleased to attend the Extraordinary Council meeting yesterday 16th September 2022 at the Bromley Civic Centre.
Chislehurst Matters Leader, Cllr Mark Smith, delivered the following speech
Madam Mayor
Thank you for giving me the chance to speak in this unique and moving debate.
My Chislehurst ward colleagues and I would like to associate ourselves with the motion so effectively moved and seconded here this evening, and wholeheartedly support it.
For many of us in the chamber this evening, dare I say the overwhelming majority, up until her death Her Majesty Queen Elizabeth was the only monarch we'd ever known.
She was the only monarch the London Borough of Bromley had ever known. While we, rightly, mourn her passing, we should also celebrate her life. She was the one constant through seven decades of unprecedented change and upheaval. Her reign spanned Prime Ministers from Churchill to Truss and US presidents from Truman to Biden.
She saw the decline of the British empire but the rise of a strong and united Commonwealth, growing from 7 nations to the current 56 – possibly her greatest legacy. Her life was one of unflinching patriotism, and there can be no greater patriotic commitment than to give over your entire life to the service of your country.
May her Majesty Queen Elizabeth rest in peace.
God save the King.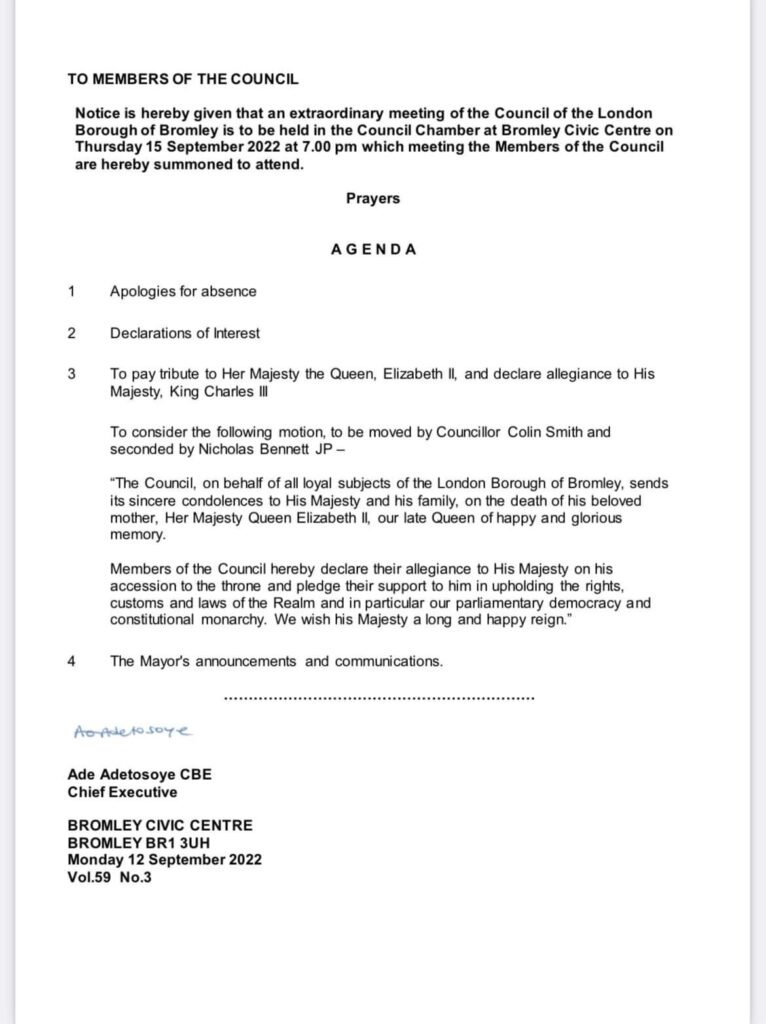 Cllr Mike Jack
Cllr Mark Smith
Cllr Alison Stammers