Meet the Team – Alison Stammers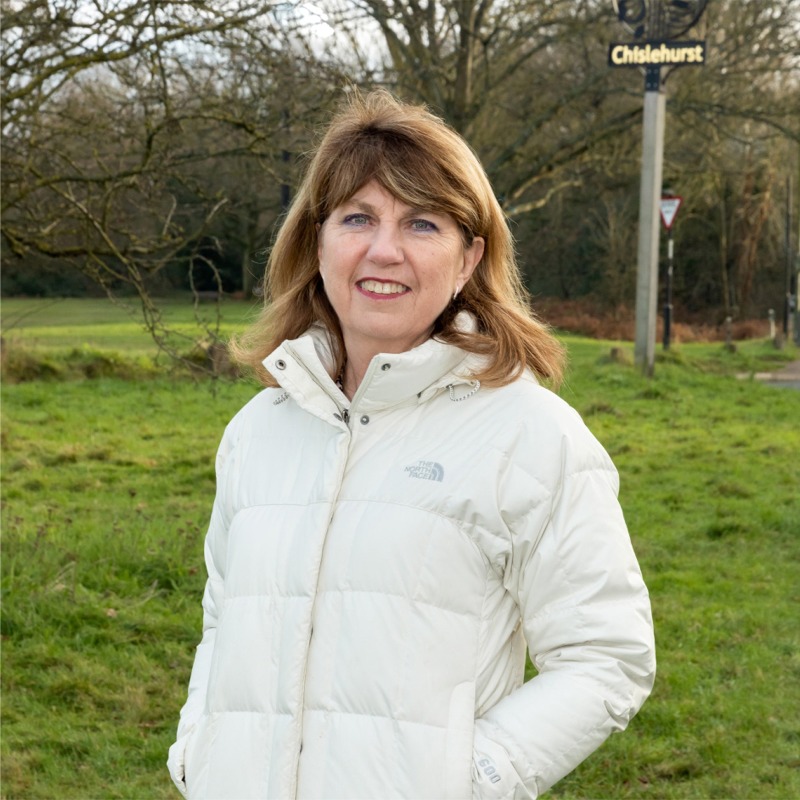 I have lived in Chislehurst for over 30 years, worked here for over 9 years (at Bullers Wood School as the Operations and Human Resources Director) after a 20 year career with the Barclays Bank Group, and brought up my family here.
I'm absolutely passionate about Chislehurst and our community and determined it should get the voice it deserves.
I have actively volunteered in Chislehurst since 1994 in a wide variety of capacities. I started by joining the Mead Road Infant School PTA when my daughter started school there, before becoming chair of the Governing Body for about 8 years.  I have since gone on to found new organisations like Friends of Chislehurst Recreation Grounds (FOCRG), the Chislehurst Town Team and Visit Chislehurst, and been an active member of others such as The Chislehurst Society and the Chislehurst Community Advisory Panel. I currently chair the Woodlands Practice and Chislehurst Medical Practice Patients Participation Group.
You will often find me in the Rec dog walking or doing Bootcamp or playing with my young grandsons.  I'm also regularly in the High Street and Parades supporting our local businesses and taking numerous photos to put on FixMyStreet to sort out issues.  I am a keen rugby fan, watching my son play in the UK and the England team around the world.
Some of the things I have achieved as a volunteer:-
Creating the Visit Chislehurst brand and social media to promote local businesses and improve local communication
Improvements to the High Street, including the new Chislehurst sign, removal of extraneous street furniture, new bins, new noticeboards, new street trees, hanging baskets, etc
Following a spate of break ins, I led a long and ultimately successful campaign for cctv cameras on the High Street
Working with and supporting local businesses on many issues, such as helping secure the extension of the outdoor seating in Royal Parade; introducing new businesses to local landlords, helping to put on events etc – these are all covered in my regular articles for The Chislehurst Society's Cockpit magazine.
Keeping residents updated about the Chislehurst Library redevelopment via a dedicated Facebook page, in the absence of updates from Council sources
At the outset of the coronavirus pandemic in March 2020, I set up the hugely successful Chislehurst Community Support Group (with the backing of The Chislehurst Society) to deliver prescriptions, food shopping and keep in contact with those isolating. My husband and I still do prescription deliveries to this day.
Coming up with the idea of and managing the installation of The Chislehurst Bear Trail project (generously funded by The Chislehurst Society)
Numerous improvements in Chislehurst and Walden Recreation Grounds with my FOCRG colleagues, including a new playground, new benches, wood carvings, working with FC Elmstead on the pavilion build
I successfully ensured many years ago that Walden Woods secured Local Green Space status. I have been active recently in trying to get to the bottom of the plans for a new school on an increased area of the woods than was originally agreed in the Local Plan
I was a co-instigator of Chislehurst Rocks and helped to organize it for many years
I regularly liaise with the police on local crime and anti-social behaviour issues and was secretary of the local police panel for several years. I still sit on that panel.
Setting up an alert system with LBB to give local residents advanced notice of utility works affecting roads
I have been honoured with several awards for my volunteering, including Mayor of Bromley Award 2012; Champion of the High Street 2013 awarded by The Telegraph/Mary Portas; Mayor of London "Hidden Credits" 2019; Chislehurst Rotary Club 2019 Community Service Award for "services to the community of Chislehurst".
I'm incredibly proud of the improvements and changes we have made, but there is still lots more to do! Having a voice within the Council will give us the opportunity to drive through more changes and to further help Chislehurst residents.